Top Message
Top Message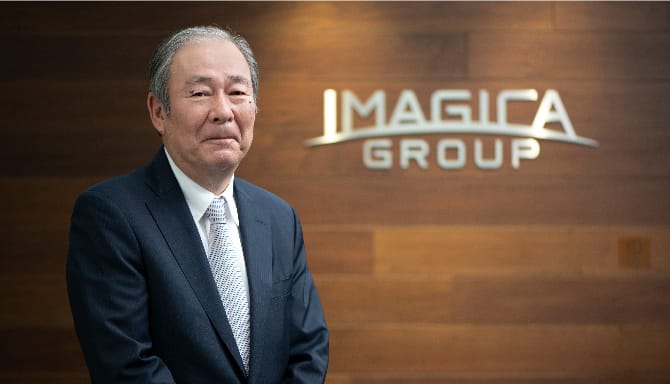 The IMAGICA GROUP transitioned to a pure holding company structure in 2006 and has engaged in imaging related businesses. Our growth process to date has focused on increasing the number of subsidiaries both inside and outside Japan, diversifying its business lines, and the full-fledged globalization of operations. Going forward, We will continue to follow this approach.
As part of this, the IMAGICA GROUP has once again revealed its commitment to contribute to the world through imaging by establishing the business domain of "visual communication." Using the common key word for the Group of IMAGICA, which is coined from the Latin term "imagica" for "imaging," "IMAGICA GROUP" will be used as the new name of the group of operating companies and the Company, as the holding company, will change its name from "Imagica Robot Holdings Inc." to "IMAGICA GROUP Inc."
The IMAGICA GROUP began more than 80 years ago as a film processing business in Uzumasa, the mecca of the Japanese film industry, and since then has been involved in film and video.
In the 1930s when the company was founded, Japanese film was in the midst of a golden age. Later, the 1940s saw the birth of television media. And in the 1970s, the beginnings of today's internet media were developed in the USA. Today, completely new electronic media is causing the imaging world to diversify at an unbelievable pace. Amid such an environment, film and video remain as invaluable parts of modern society. Film and video are ingrained in our lives in a variety of ways, including as entertainment content and as a method of conveying information. As the pace of technology innovation continues to accelerate, we will continue to discover new ways to utilize film and video. The IMAGICA GROUP is engaged in various businesses, and is committed to presenting the world with new value in visual communication.
In our corporate philosophy, we include the theme of honesty and sincerity. Our promise is to interact with all people and businesses with honesty and sincerity through visual communication.
October 1, 2018
IMAGICA GROUP Inc.
Representative Director, President
Makoto Tsukada