Top Message
Top Message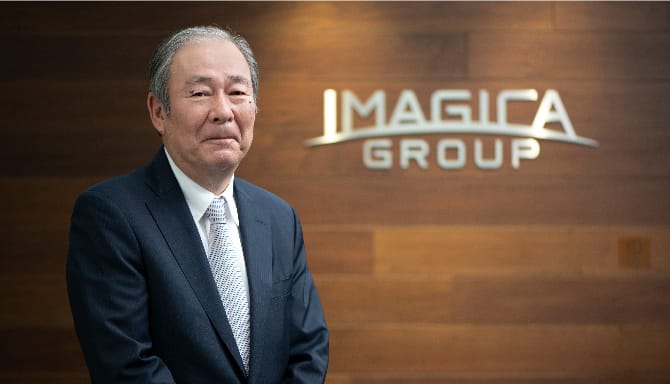 The IMAGICA GROUP was founded in 1935 as a business in movie film development and printing for showing.
The "imaging" that we all watch routinely have permeated society in various forms as technology has evolved and the types of media have increased from movie theaters to televisions in each household, and then to personal smartphones, ubiquitous digital signage, and other types of media, and have become an indispensable part of our lives. Those of us in the IMAGICA GROUP have also continued to always keep pace with "changes in business environment around imaging" and have striven to achieve our Group Mission of being "a visual communications group that provides the world with surprise and excitement."
In addition to the dizzying pace of technological innovation, the recent changes in the social environment caused by the spread of the novel coronavirus have also necessitated rapid transformation in imaging-related businesses, which are pivotal to the IMAGICA GROUP.
The Group intends to continue to keep pace with "changes in business environment around imaging" and work diligently amid this environment. As the one and only creative and technology group to deliver visual communication globally, we will pursue our businesses even in the age of a "new normal" based on the Group slogan of "Demonstrate collective strength of IMAGICA GROUP in Imaging as a core". Specifically, we will propose a new vision of entertainment through "imaging," take on the challenge of innovation in "image" production that is suited to new lifestyles, use "imaging" in areas unrelated to entertainment such as the medical, education, and general industrial fields, and undertake other initiatives to meet the diverse needs of society and endeavor to be of service to everyone.
The IMAGICA GROUP will continue to take on the challenge of creating new value in "imaging," and aim "to be a visual communications group that provides the world with surprise and excitement," and we ask for your continued support.
July 1, 2020
IMAGICA GROUP Inc.
Representative Director, President
Nobuo Fuse